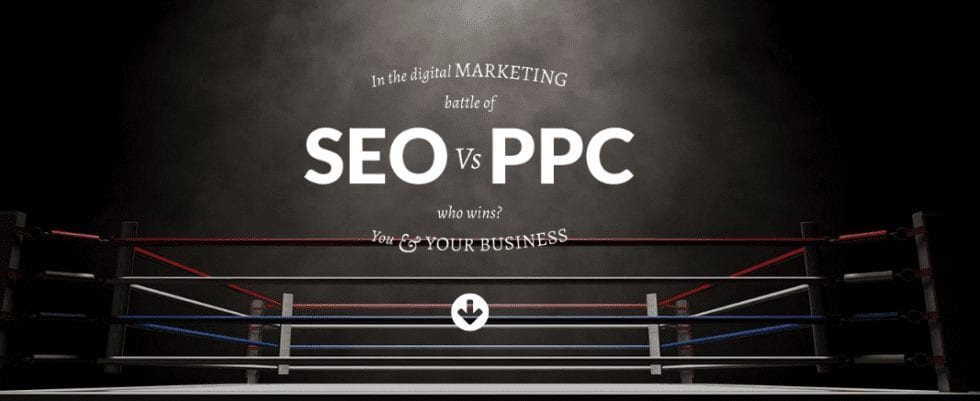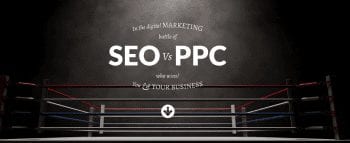 A battle steeped in search folklore.
This contest has attracted lots of attention from fans of the digital marketing game over the years. In particular, businesses looking to grow their traffic through more exposure.
The casual fan might be asking what distinguishes these two marketing champions? So let's unpack them.
Lets get ready to rumble !!!!!!!
In the green corner,  we have SEO
SEO stands for Search Engine Optimisation. It's the business of organic and natural rankings on search engines for key words and phrases, and queries related to your business. Normally around 10 or so organic listings appear on the search engine results page (SERP). Usually below a few ads. This leads us to tonight's opponent.
In the blue corner, we have PPC
PPC stands for Pay Per Click and is a generic term for paid advertising. You can of course pay 'per click' or 'per 1000 impressions' (PPM), but PPC is often used as a catchall for referring to any sort of paid placement. Google Ads, for example. Ads usually appear at the top, bottom, and side of a search engine results page. They might also have their own special section, like Google shopping for example. And appear as ads on other websites you visit.
Both are formidable click-getting contenders. So who to cheer for in this classic contest between two traffic-winning Goliaths? Which warrior should you back with your buck?
Well, touch gloves, keep it clean, and protect yourselves at all times. Because 'ding ding'… It's round one.
Find round one, two, three, four, five and six and the result here.